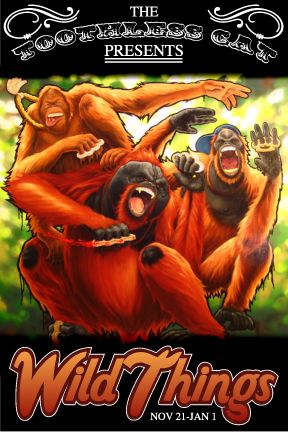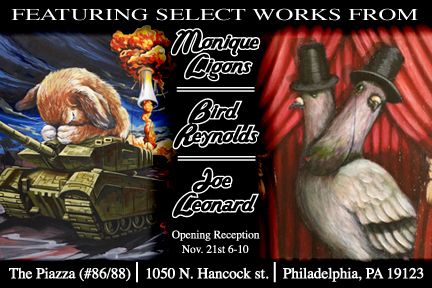 The Toothless Cat gallery is please to announce Wild Things, a three- person exhibition featuring works by Monique Ligons, Bird Reynolds, and Joe Leonard. The singular bodies of work from each artist form a distinct anatomy that represents animals taking on human characteristics, particularly the explicit behaviors of gang violence, war and burlesque. Through the unique and distinctive voices of each artist, the exhibition reverberates a collective commentary on humanity and the "wild" emotions and actions we feel and choose. As satirical reflections of us, the exhibition has a complex dual tonality of mischief and glamour, highlighting the contrasts and contraditcitons in our natures.
Opening Reception November 21, 2009 6-10 pm!!!!
About The Artists:
Monique Ligons:
Philadelphia artist, Monique Ligons was destined from birth to be an artist- creativity flows through her veins. Drawing ever since she could hold a crayon, Monique was constantly encouraged by her mother to hone her talents. She began her formal creative education in 1989 after acceptance into the prestigious arts high school, CAPA. Ligons continued into the college level at the University of the Arts, where she received her BFA in Animation in 1997. Ligons' post-grad years were spent teaching animation at her alma mater and Animation Arts in N.J. She simultaneously freelanced as an animator, character designer and storyboard artist which she continues to do. Monique has had the privilege of working on a number of high profile projects- notably, Richard Linklater's "Scanner Darkly", the music video "I'm Impressed," for They Might Be Giants and Guitar Hero's commercial for their handheld game. She has recently been sought after to produce cover art for C.O.P. magazines' international issue. Having only participated in a limited number of gallery exhibitions over the years, Monique's recent decision to actively pursue greater visibility in this arena has been welcomed with great enthusiasm and praise..
Bird Reynolds:
Philadelphia artist Bird Reynolds started his artistic pursuit by writing graffiti in the streets. His work has appeared on walls and within galleries such as Jinxed. Reynolds is mostly self- taught, having been in school for a brief time. He is also a re-known and sought after tattoo artist at Philadelphia Eddie's Tattoo.
Joe Leonard:
Joe Leonard was born in Philadelphia in 1968. He studied painting at Temple University/ Tyler School of Art. After graduating from Tyler magna cum laude in 1992 he pursued an apprenticeship as tattoo artist. In 1995 Joe migrated to Santa Rosa California to open his own tattoo studio, Monkey Wrench. Showing both throughout the US and overseas. Joe continues to paint. In 2008 Snakeface Publishing released "Offerings from the Bloody Bucket," a book of 150 paintings that he had executed between 2003 and 2007.
This work has far exceeded our expectations! All artists will be in attendance at the opening. A night not to be missed!!! Look here for a preview of the work this week........